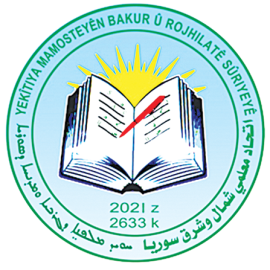 Union of North and
East Syrian Teachers
The Union of Teachers of Northern and Eastern Syria, founded in 2014 in the city of Hasakah, in the north and east of Syria, is an elected cultural, social and service institution of civil society that enjoys legal personality representing teachers in the north and east of Syria and seeks to raise the teacher and the message of education, defend the individual and collective rights of associate members of the education profession, fortify their gains by all legitimate means and develop fields associated with his profession, with a membership of about forty thousand members
Union structure:
General Union
branches:
Al Jazeera Branch
Deir Ezzor Branch
Raqqa Branch
Tabqa Branch
Furat Branch
Manbij Branch
Aleppo branch
Shahba Branch
committees:
 Co-chairmanship
 Organizational committee
 Archives committee
 Hygienic and services committee
 Projects and associations committee
Law committee
 Finance committee
Events, culture and media committee
 Women's committee
 : The Goals
 Organization and unification of teachers' struggle to achieve social justice, equality, equal chances and link teachers' struggle and aspiration with that of the other people.
Making suggestions for improving the educational work as a productive work and taking part in improving the competence and productivity of workers working in the field of education and university teaching.
Participation in improving the professional level of teachers and deepening their awareness and continue bearing their responsibilities with high competence.
 Taking care of teachers' financial, spiritual, health, social and cultural interests as well as protecting and defending teachers' rights to do their duties.
Enhancing teachers' role in spreading environmental culture and thereof protection. Guiding teaching towards fulfilling development needs and preparing the required frameworks for building a technical and industrial foundation for the society and taking care of all fields of knowledge in a way that serves the comprehensive development of Self-Administration of North East Syria.
Taking part in public control on the education process to make sure its quality and competence.
Encouraging creative initiatives and intellectual talents and competences among teachers as well as encouraging higher studies, scientific research and protecting writers and inventors' rights in the field of education.
 Improving relationships with teachers' organizations in the world on the bases of common interest, mutual respect among peoples and connecting teachers'
struggle with the struggle of peoples.
Cooperation with public organizations and professional unions to enhance national interest.
 Cultivating national values that glorify martyrdom and martyrs.
Preserving the mother tongue, its grammar and paying attention to its teaching.
                                                                                                                                                       Relation with Regional and International Organizations
Teacher Union affiliates to teachers' regional and international
organizations and struggles through them to unite teachers' struggle in the world and link their struggle with that of the mass. Teacher Union affiliates to teachers' regional and international
organizations to struggle together to support national liberation movements and fight against all forms of assimilation and massacres, find a democratic education and plant love among peoples.
–The decision to affiliate or withdraw from regional and international organizations is taken by the general council.
–Teachers' General Union exchanges delegations, journals and experiences with regional and international organizations.
–Teachers' Union, by a decision from the executive office, accepts the scholarships granted by other friendly unions, training courses at the federal institutes and treatment. It also has the right to grant similar scholarships to envoys of those unions after obtaining the approval from the concerned authorities.
–Regional and international relations are restricted to the executive council of the general union and thereof council.
–In case a union's member has been elected to an administrative post in regional or international teachers' bodies, he/she has the right to stay in the his/her own post regardless of the electoral cycle of the Self-Administration